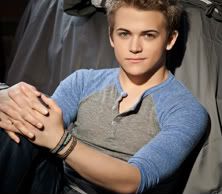 The Hunter Hayes Team is working on a special voting campaign project and they want you to be a part of this journey. All you have to do is post a video to the
HunterHayes.com Community
including the following:
Introduce yourself - "Hi , I'm ________
Tell them where you are from – ...and I'm From __________ & I Want YOU To Vote For Hunter Hayes!"
Tell them your favorite Hunter story - where you were when you first heard Hunter, what it was like seeing him live, what it was like meeting him, and any other stories you have.
How to post a video to the HunterHayes.com community:
Film your video! Make sure you introduce yourself, and share your Hunter Hayes stories. Tell the world why you think Hunter is the best new artist to join your Mp3 collection this year. Make sure to include "Vote for Hunter Hayes" in your message.
Upload your video to YouTube.com.
Copy the Embed Code from YouTube (make sure it's the "Old Embed Code" – not the one that starts with "iframe") and paste it into the "Embed" box. Fill in the Title and Body too!
Click Save to post. You won't see it on the website immediately – they will monitor and approve all videos before they post to the public.