These new artists were chosen to perform at the Nashville Convention Center on Friday, Feb. 24 during Country Radio Seminar (CRS) Week. The CRS/CountryAircheck Awards will be presented between sets. This special show that features the new faces of country music is co-sponsored by the Academy of Country Music and the Muscular Dystrophy Association. (source:
www.countryaircheck.com
)
You can find out more about CRS by clicking
HERE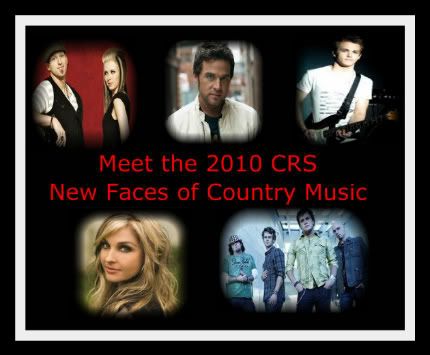 Let Me Introduce the CRS 2012 New Faces of Country Music:
Husband and wife Keifer Thompson and Shawna Thompson team up to make the new super country duo, Thompson Square. They are artists signed with Stoney Creek Records and have released: "Let's Fight", their #1 hit "Are You Gonna Kiss Me or Not" and their current single,"I Got You".
David Nail is signed to MCA Nashville and has released the cd, "
I'm About to Come Alive
", which produced three singles: the title track, the hit "
Red Light
" which charted at #7 and "
Turning Home
" which peaked at #20. His follow up cd, "
The Sound of a Million Dreams"
, hit shelves in November 2011.
Hunter Hayes
is signed to Atlantic Records Nashville. His debut single "
Storm Warning
" charted at #19. He is a self taught musician of about every different musical instrument you can think of and plays them all on his the song. His self titled debut cd was released in October 2011 and has been a top seller. He's been featured as an opener for
Taylor Swift
on her record breaking "
Speak Now
" tour and is included on the soundtrack for the hit movie, "
Footloose
".
Sunny Sweeney
is signed by Republic Nashville. She released a cd, "
Heartbreaker's Hall of Fame
" in 2007 and it produced three singles - "
If I Could
", "
Ten Years Pass
" and "
East Texas Pines
", none of which unfortunately charted. That luck changed in the summer of 2010 when the first single off of her sophomore cd, "
From a Table Away
," broke the Top 10, peaking at #10.
Eli Young Band
released their self-titled debut cd in 2002 and released their follow up cd ,"
Level
", 3 years later in 2005. Their third release,
Jet Black & Jealous
, on Universal South, came out in 2008 and included hits "
When It Rains
" and "
Guinevere
". Their second major label release which was released by Republic Nashville, "
Life at Best
" released in late 2011 produced their first #1 hit, "
Crazy Girl
".