CONGRATULATIONS TO THE WINNERS OF THE FIRST "11 DAYS OF CHRISTMAS - OUR FAVORITE THINGS OF 2011" CHRISTMAS GIVEAWAY WHO ARE LISTED BELOW. THANK YOU TO EVERYONE WHO MADE THIS A HUGE SUCCESS AND THANK YOU ON BEHALF OF THE ARTISTS WE PROMOTE FOR SUPPORTING THEM THROUGH 2011. MERRY CHRISTMAS EVERYONE!
WINNERS WILL BE RECEIVING AN EMAIL CONFIRMATION OF THEIR WIN TONIGHT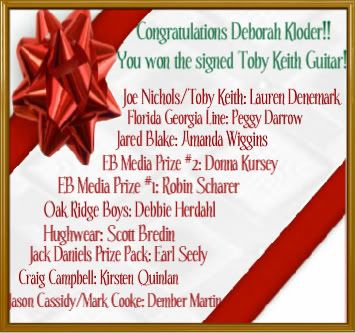 Thank you to the following for their prizes and for their help!
Showdog Universal (Sloane, Toby, and Joe)
The Oak Ridge Boys (Joe, Duane, Richard, William Lee and Kathy Harris)
Jared Blake and Jenn Rachidi
Quarterback Records (Kelly Symone, Jason Cassidy, Mark Cooke)
All the Girls at Essential Broadcast Media
Hughwear - Hugh Nickolisen
SDSIX: Scott DeCarlo, Bobby Fuchs, Dave Crum, Jason Krebs, Chris Tsaganeas and Paul Del Corral
The Girls at Monarch Publicity
Craig Campbell
Florida Georgia Line (Tyler Hubbard and Brian Kelley)
Josh Gracin
Rodney Atkins
Clint Black
Randy Houser
Jaron and the Long Road to Love
The Cordovas
Attwater
James Otto
Corey Smith
Colt Ford
Ingrid Ward
Nixa Country Radio
NashvegasRadio