There were some great things heard last night on the ACM Awards as well on social media. Leave it to country to tell it like it is ... HA HA!
"I remember back when you were just a life-support system for a mullet." – Reba talking to Blake Shelton
"You know, I didn't get a chance to see a lot of your early career until we got the History Channel, that is." – Shelton dishing it right back to Reba
"I am nervous. I'm sweating like Lindsay Lohan taking a driver's test." — Blake Shelton on hosting with Reba
"I can't believe I smell this good!" - Blake on what Taylor Swift's new perfume should smell like. This one deserved a photo ... LOL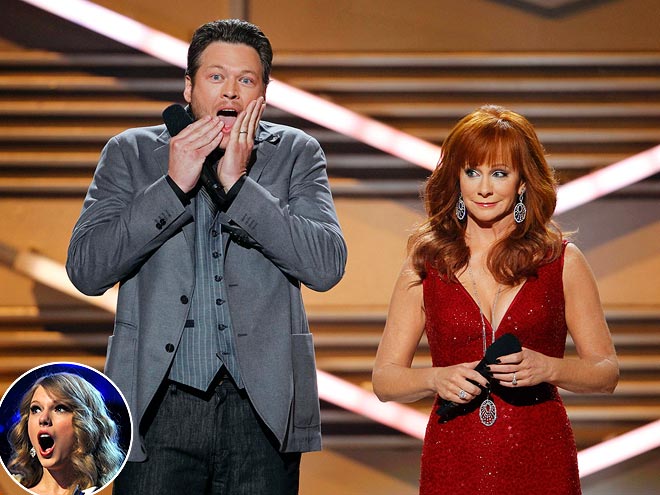 "I kind of thought it needed a female vocal on it, and
Kelly (Clarkson)
was the first name I threw out, and I'm really glad I did, because she came in and made a great song, and just took it to a new place."
- Jason Aldean after he and Clarkson won single of the year for their "Don't You Wanna Stay"
"I was two drinks over my limit, and four drinks less than Randy Travis."
- Blake comparing his Las Vegas partying and alcohol consumption the night before the awards to that of Travis, who was arrested for public intoxication in February

"Brooks & Dunn and Sugarland are the only ones who've won this thing since 1991, so we didn't expect it." – Keifer Thompson on Thompson Square's win over Sugarland for Duo of the Year

"This category this year was probably the toughest one ever. I own every one of them. I listen to every one of them and I'm like, 'Crap! They're all really good.' I'm good now. I don't need to win another ACM ever." – Miranda Lambert on her score for Album of the Year
"That song has got to be the biggest surprise hit since Osama bin Laden said, 'Who is it? Come in!'"
– Blake on Toby Keith's hit song "Red Solo Cup"

"I just wanted to do more of what people expected me to do last year. I'm also trying to get fired, because I'm longing for the days where I was just the guy out in the audience drinking my face off. It's hard for me to have this type of responsibility and try to be professional. I don't see how Reba does it year after year because at some point you gotta be a wasteoid. That's what people expect of musicians, celebrities and stars. I'm ready to step back into that role of being wasted all the time." – Blake Shelton on being a host

"I've dreamed about this moment my whole life, and I can speak for the rest of these guys up here that they have, too. For those of you watching on television, if you're dreaming about this moment, follow your dreams. Believe in yourself and do it." – Eli Young Band's Mike Eli acceptance for Song of the Year for "Crazy Girl"

"1st big win for Thompson Square last night! Sure would have been nice to see them win onstage during the show! I missed that!" – Reba's tweet (Reba, we agree! Why the heck wasn't that televised???)

"Fremont was one of the funnest shows I've done in awhile. I've never been to old Vegas before. I'm 18, so you should expect it." - Scotty McCreery

"I hoped I would win, but I remember saying Taylor deserves it. She truly does. I don't think there's anybody with half a brain who would stand up here and say otherwise ... But I'm always going to make fun of her in my monologues, so she might as well get used to that." – Blake about Entertainer of the Year

"Odd moment ... The two cars going to the airport that I paid for just left ... with everyone ... except me." - Chris Young tweet