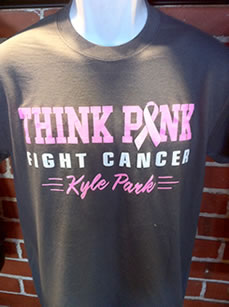 Austin, TX (October 23, 2012) - Rising Texas country artist
Kyle Park
is supporting breast cancer awareness month by wearing a pink shirt onstage at every show for the entire month of October. Starting today, fans can pick up their t-shirts at any Kyle Park show or they can be purchased from his website for $20. All proceeds raised will go to the Susan G. Komen Foundation Austin Affiliate and Women Rock For The Cure.
To watch Kyle Park's Breast Cancer Awareness video, click
HERE
Park is anything but new to the Texas music scene. His debut album was released in 2005 and since then, Park has not slowed down. Using unconventional methods, Park decided to release two EPs in 2010 and allowed fans to choose songs for the following album, Make Me Or Break Me, which was released in 2011. With the title track as the single, it earned Park a No. 3 spot on the Texas Music Chart and the song stayed in the Top 10 for over six weeks. As with any Top 10 song, a top-notch live show is a must. It's no coincidence Park has developed an audience big enough that his name is now on the back wall at Billy Bob's Texas, right alongside Pat Green, Blake Shelton, Alabama, Brad Paisley and Tim McGraw.
About Women Rock For The Cure:
Women Rock For The Cure™ is a Nashville-based 501(c)(3) organization committed to connecting and supporting young women facing breast cancer. Founded in 2007, the organization works to build awareness and provide outreach programs through the power of the entertainment industry. Flagship annual events include the Pink Trash Ball and Opry Goes Pink concert, which has featured performances by The Judds, Martina McBride, Kellie Pickler and Carrie Underwood. All proceeds benefit the organization's outreach efforts, including the Young Survivors Retreat, which brings together young women diagnosed with breast cancer. For additional information on Women Rock For The Cure upcoming events and how to get involved, please visit
www.WomenRockForTheCure.org
.
About Austin Affiliate of Susan G. Komen for the Cure:
Since 1999 the Austin Affiliate of Susan G. Komen for the Cure has been hard at work in the Austin area raising money to provide FREE breast cancer screening, education and medical services as well as financial and emotional support. In fact, 75 percent of the money raised each year is put to work right here in Bastrop, Caldwell, Hays, Travis, Williamson counties to improve the lives of those affected by this deadly disease. The remaining funds go to national research to find a cure for breast cancer once and for all.